79% of legal professionals agree that coping with the increased volume and complexity of information will have the most impact across the legal sector over the next 3 years.
– LawSites
The world of legal is evolving and adapting to its environment with legal tech and tools of the trade. As legal grows, it becomes more complex, and so do legal matters that general counsel or legal departments have to process and work on. The shift away from simple laws gives way for legal complexity, which determines rules and regulations, and legal proceedings. 
Legal complexity is all the data that lawyers have to identify, collect, and go through for a case or litigation outcome. Statutes and legislation that are vague present deeper layers of complexity, versus ones that are clearly stated. Our world is transforming everyday, with innovations such as revamped technology, autonomous cars, cryptocurrency, or advances in medicine. At the end of the day, these innovations depend on law to create a system to govern them, to create a better tomorrow, with rules and regulations that matter today.
Lawyers Agree Volume & Complexity of Legal Matter is Growing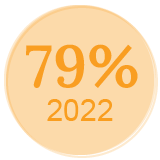 What Influences Legal Complexity?
Legal Disruption
LawNext notes that legal innovation is taking legal swiftly to new frontiers and dimensions never seen before. This braver and bolder new world adds additional layers of complexity and ambiguity to legal proceedings. Although the pandemic spurred the rapid adoption of legal tech, it grew in popularity in a remote world, along with virtual legal solutions. With legal technology by their side however, legal departments have the means to succeed in a fast-changing industry that is agile enough to meet demands.
One of the biggest disruptions in legal is without a doubt the emergence of legal technology. A Forbes article states says "from AI to data-driven pricing tools, the promise has been one of lower cost services and more accessibility and transparency around the practice". Legal tech offers legal the chance to process and use the growing amount of legal matter and its growing complexity, with ease, through solutions such as litigation tools, legal research, and more.
Evolving Society
Breakthrough innovations, revamped technology and a changed world result in legal needing to evolve to keep up with new demands and requirements. Whether it's autonomous cars, cryptocurrency, or advances in medicine, it all boils down to how legal tackles it to create a better tomorrow, with rules and regulations that matter.
Legal Interconnectedness
Legal codes can be seen as tools or technology. They evolve to keep up with the times and changing face of law. Law can become highly interconnected with other codes, which can render them vague and increase their legal complexity. WIRED notes that "the more interconnected a section of the law is, the harder it is to truly assimilate and understand the law's implications", which adds layers of complexity to already intertwined rules and regulations. As societies transform, so do the codes and laws that govern them, for a 360° risk-eliminating safety measure.
Most Complex Sections of the U.S. Code
Title 42 (Public Health and Welfare) is the most complex and interconnected
The Internal Revenue Code, or Title 26.
Without a doubt, the legal system is set to only increase in complexity over time. This will affect different Titles, and possibly the entire U.S. Code as we know it. With legal technology, legal complexity can be simplified and streamlined.